Waimanalo Beach: The Perfect Hawaiian Getaway
If you're looking for a breathtaking Hawaiian getaway, look no further than Waimanalo Beach. This serene spot on the island of Oahu is perfect for swimming, sunbathing, and simply taking in the stunning natural scenery. With crystal-clear water and soft white sand, Waimanalo Beach is worth a visit!
Waimanalo beach is not only a perfect place to practice and enjoy several different water activities off of Oahu's coastline, but it is easy to get to and has plenty of nearby adventures to explore after the fact as well.
Waimanalo Beach Activities
One of the great things about Waimanalo Beach is that there's something for everyone to enjoy. It's great for if you're looking to get active, go kayaking, stand up paddle boarding, or snorkeling. Or, if you're looking to relax, simply sit back and soak up the sun on the sand.
Kayaking
Ocean kayaking is a great past-time on the windward coast of Oahu. There's certainly no shortage of places to visit and see along the coast. If you plan to spend your day kayaking off Waimanalo beach make sure to head North along the coastline to catch a glimpse of Kailua Beach Park and Lanikai Beach.
Stand Up Paddle Boarding
Paddle boarding is another great activity to do while at Waimanalo Beach. You can either paddle out into the ocean to explore or stay closer to shore and enjoy the view. Make sure you check the wind report! If it's too windy, you may want to look for an alternative place to take your SUP, like Kaneohoe Bay.
Snorkeling
Snorkeling is a great way to see some of the amazing marine life that Hawaii has to offer. There is a plethora of reef fish, beautiful coral, and if you're lucky, you'll even be able to snorkel with a turtle! Be sure to bring your snorkel gear or pick up some snorkel gear rentals for your stay.
How To Get To Waimanalo Beach
Waimanalo Beach Park is located right off of Kalaniana'ole Hwy. If you're driving here from Honolulu, Kailua, or anywhere on Oahu it's easy to find for an enjoyable day in the sun.
Waikiki to Waimanalo Beach
Time: about 38 minutes
Distance: 17.9 miles
Kailua to Waimanalo Beach
While Kailua is very close to Waimanalo Beach, if you are planning on spending a day in the water, you can always decide to travel the coastline for a visit. Visiting via the coastline by kayak is likely to be an all-day adventure.
Time: about 20 minutes
Distance: 6.3 miles
Ko Olina to Waimanalo Beach
Time: about 50 minutes
Distance: 35.5 miles
Rentals For Your Visit To Waimanalo Beach
If you're planning on spending your day at Waimanalo Beach and participating in any water activities, make sure to bring or rent the proper gear. Local shops, like Sun and Salt Adventures, have the best rentals for kayaks, stand up paddleboards, boogie boards, and other needs in the Kailua and Waimanalo beach area.
We'll help instruct you on how to load up your gear and get it ready for your day on the water.
Other Adventures Near Waimanalo Beach
Once you've had your fill of this wonderful beach, there are plenty of other adventures waiting for you nearby.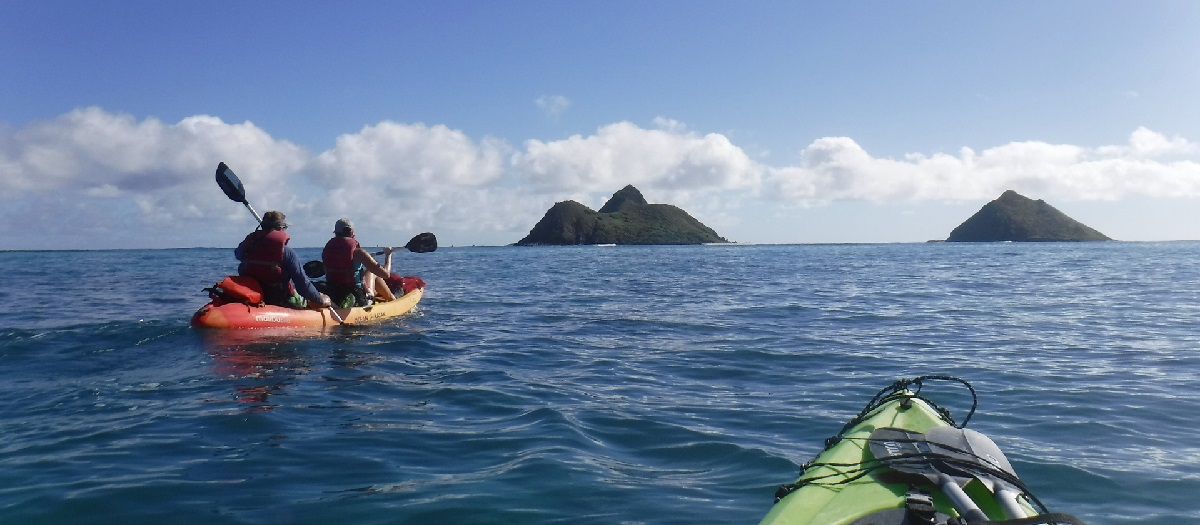 Visit The Mokes
The Mokes (Mokulua Islands) are two small uninhabited islands located just offshore of Kailua Beach Park. You can kayak or stand up paddleboard out to The Mokes for an up-close look at these beautiful volcanic islets.
Schedule a Kayak Tour of the Mokulua Islands!
Experience Lanikai Beach
Once you've seen one beach you've seen them all… said no one who's ever visited Hawaii. Lanikai Beach is definitely worth a visit while you're in the area. This world-famous beach is known for its gentle waves, clear water, and white sand beaches.
Kailua Beach Park
Finally, Kailua Beach Park is a must-see while you're in the area. This beach park has it all and is worth a visit.